What is js-downloader ?
What is the JS Downloader trojan virus? How to remove it? Today, Trojan virus is the most dangerous and widespread malicious threat on our secure networks. But cyber-attacks are constantly piercing these networks (office and home) with various threat variants without your permission. JS Downloader is a Trojan virus that gets to you with hidden…
What is the JS Downloader trojan virus? How to remove it?

Today, Trojan virus is the most dangerous and widespread malicious threat on our secure networks. But cyber-attacks are constantly piercing these networks (office and home) with various threat variants without your permission.
JS Downloader is a Trojan virus that gets to you with hidden malware and uses JavaScript files to gain access to your computer. Once it gets on your computer, the virus creates autorun.inf to keep the malicious files running unbeknownst to you.
Most virus variants have been featured in many JavaScript anti-virus reports. This threat intends to disrupt normal system functions, and it is quite successful at doing so.
Let's take a closer look at the JS Downloader virus

JS.Downloader, a variant of this virus that first appeared a few years ago and mostly affected Windows computers. It infects tons of users to this day, and the most obvious sign is that it slows down your browser and system.
It was first noticed in 2003!
Since then, many popular variants such as JS / Downloader, JS.Downloader.Agent, JS.Downloader! Gen33, JS.Downloader! Gen36, etc. have managed to infect our systems.
Once the JS.Downloader virus gets inside your computer, it dramatically changes the performance of your computer. The virus behaves stealthily on your PC and serves as a backdoor for virus infections.
In addition, this deadly infection blocks major database files such as images, videos, media files, audio files, etc. For this, JS Downloader modifies Windows registry editors and adds new registry sections, modifying existing ones.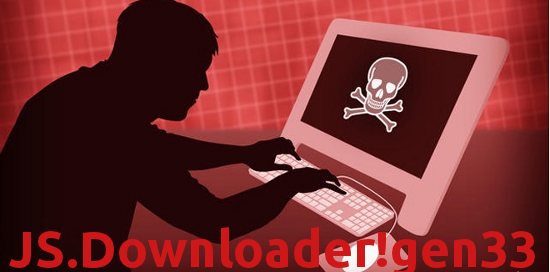 When analyzing the sample (SHA4: 9b3b8c4cb8d0a67ec7398ac9c0a7b37df8c4d92bd1) we found that the complex JavaScript file does not allow a normal user to read the content.
When the attachment is opened, the JavaScript communicates with a remote server, which triggers the download and execution of other malicious files on the infected system. Further analysis revealed that the downloaded files lead to the installation of Coinhive malware.
Infections caused by the JS Downloader Trojan family

When we see that our computers are affected by such virus variants, we begin to monitor the functionality of the computer. Below are the results related to malware and virus variants.
High CPU power consumption reduces the overall performance of your computer.
The computer reboots for no reason, sometimes freezes during operation.
Slow internet browsing speeds can cause the internet to stop unexpectedly.
Fake warning messages and pop-up notifications for operating system updates.
Misdirected web searches affect your Internet experience.
It steals your browsing information and personal information such as IP addresses, bank details, passwords and login credentials.
Modifies your Windows registry editors to remain undetected by antivirus and anti-malware programs.
Automatically downloads executable files from unknown sources and unprotected websites.
Sends fake emails and maintains a false presence on the Internet and social networks even though you are not logged in.
Changes and unusual activities on the computer allow us to think of solutions to eliminate the virus. The solutions are such as to get our system back on the safe side.
How does JS Downloader get into your computer?

Like most trojans and viruses, JS Downloader also gains access through source programs carrying the payload of a cyber threat. It also installs itself on your computer without your consent. Some sources of such programs are:
Malicious websites specifically designed to inject Trojans
Legitimate websites infected with Trojans
Email attachments and infected links
Fake updates for installed software
Peer-to-peer network sharing
Malicious video players, audio players, and codecs on your computer
Free downloadable games and programs (for free)
Chat applications
IRC freenode IRC channels
Malicious social networking links to infected files and websites
Therefore, it is important to remove it, and to do so, we must block the above infection pathways that are responsible for introducing threats.
Thus, we strongly recommend you to remove JS.Downloader Trojan from your computer along with other malicious files and programs. To help you in the process of removing the virus, we have an automatic and manual guide.
In the manual, we will focus on removing malicious extensions, files and programs from your system.
Because the guide is a step-by-step removal process, it can take longer and more time. In addition, it does not create an automatic firewall for the trojan.
On the other hand, the automatic method is much more convenient. For that, let's take a closer look at the anti-malware tool called Malware Crusher. Download it and run it to save your computer.
JS Downloader virus removal tool: automatic removal method

The automatic scanning of the antivirus tool detects the presence of all unwanted programs and files. Its reliable technology prevents information gathering.
Malware Crusher is one such tool that has various ways to remove the threat such as:
Its real-time protection feature performs deep scanning, detects malware and infected encrypted files in your system.
The Quarantine feature of the tool removes all infected files from your computer. In addition, a record of all deleted malware is stored.
Malware Crusher also creates protection against malware, adware, malicious programs, browser hacks, viruses, extensions and Trojans from entering your system.
The 24/7 online protection works as anti-exploitation and blocks virus components before they install the file.
Malware Crusher relentlessly visits all domains, URLs and web pages to protect your online operation from fraudulent intrusions.
Malware Crusher becomes more brutal in detecting keyloggers, remote connections and saving your data from write attempts.
The automatic removal method with Malware Crusher is undoubtedly the best solution to remove adware and other installed programs, codes from your computer. However, you can also use the manual adware removal option.
Remove JS Downloader from your system manually

Of course, it is difficult to stop viruses from entering your computer without the help of some program. At any rate, you will encounter ads regularly as they will collect your data.
To avoid encountering this situation, you can use the manual removal method described below:
On your Windows computer, press Ctrl+Shift+Esc to open the Task Manager.
Select all suspicious and unused programs. Left-click on the selected program and then click on End Task.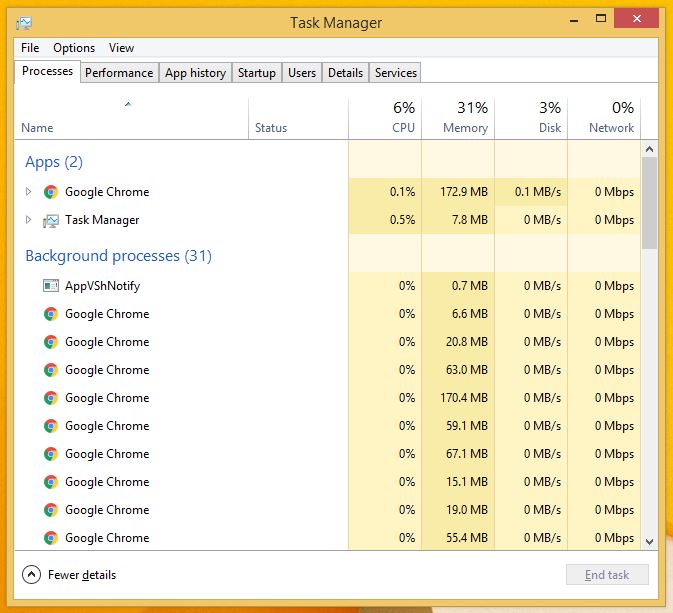 From the above image you can see that no other program is running besides Google. But if you find something suspicious in the Task Manager window, terminate it. Also, try to remove it through our removal process.
Remove suspicious JS Downloader files

Deleting files associated with suspicious variants of JS Downloader is our second step after stopping all processes. To do this, press the Windows key + R, the Startup window will open.
Now type appwiz.cpl to open the programs and features window.
Select all suspicious programs and uninstall them.
Be sure to select only those programs that you think can harm your computer. This is risky because you can't randomly select any program and uninstall it.
It's a good time to say that the reliable Malware Crusher anti-adware tool is easy to use compared to the manual process.
Remove suspicious browser extensions

If you think that removing programs from your computer helps you get rid of adware, you are wrong. You should remove malicious extensions that you can see.
Click the "Settings and Controls" icon in the upper right corner of Google Chrome.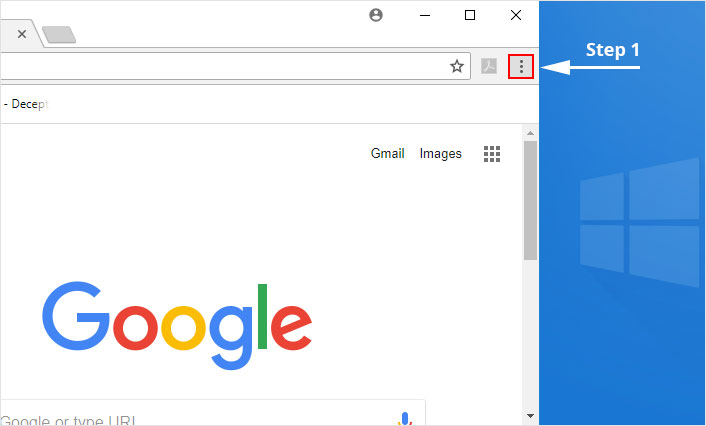 2. Select "Other Tools" from the menu.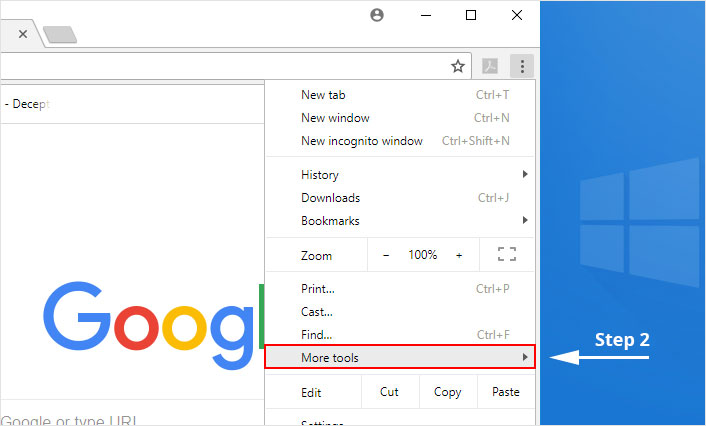 3. Select "Extensions" from the side menu.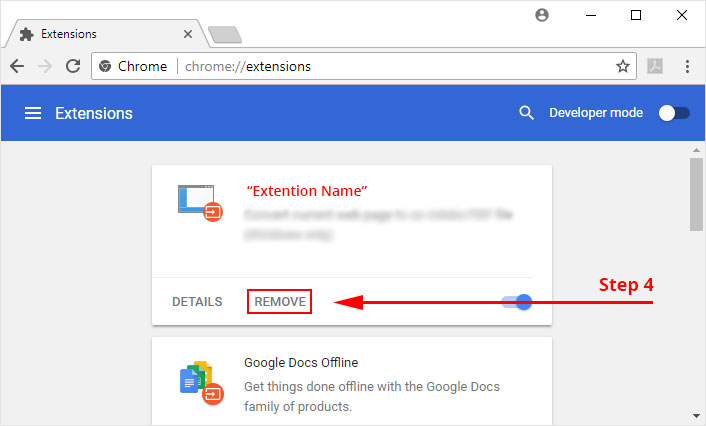 4. Click the "Delete" button next to the extension you want to remove.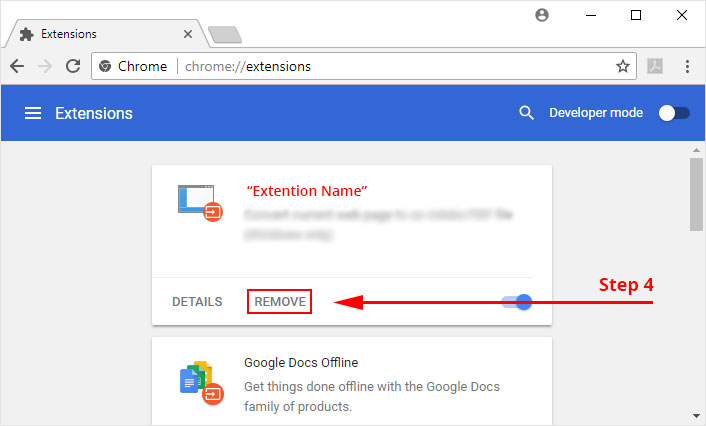 5. . You will be asked to confirm again, click "Remove" and the extension will be removed from the system.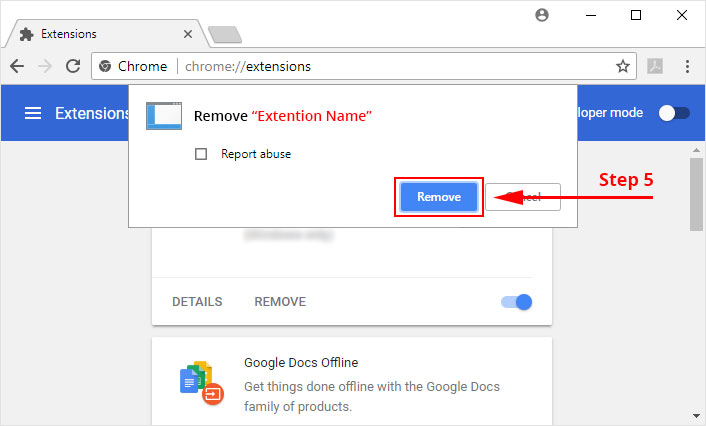 Now that we have successfully eliminated the malicious browser extension, we need to build a strong firewall to avoid this situation that makes our system and privacy vulnerable to various online threats.
However, if you find it difficult to deal with the extensions on your own, we recommend that you reset your browser settings.
Resetting your browser settings
Before you install your default browser, delete your search history, including passwords and credentials.
Resetting Google Chrome
Click the 3 dots in the Chrome window
Select Settings, scroll down to the bottom of the page, and click Advanced.
Scroll to the end of the list again, click "Restore Settings" to the original default> "Reset Settings".
Reset your Mozilla Firefox settings
Open the Firefox menu (in the right hand corner)
Choose "Help"> "Troubleshooting"> "Update Firefox"> "Done".
You can also try Safe Mode to disable the Add-on.

Reset Internet Explorer settings
Click the Gear icon in the right corner of IE.
Choose "Properties"> "Advanced" and select options, click "Reset".

The manual process is lengthy and requires technical knowledge to remove adware from Windows. Although you will be able to perform each step, finding malicious files, extensions and program associated with the maximum video player is a difficult task.
Thus, a permanent solution is required that can fight around the clock whether you access your system or not. To get rid of fake search engine, you should download Malware Crusher, install it and perform a quick full scan.
It automatically removes JS Downloader, fixes your Windows computer in less than 5 minutes.